In this bi-weekly series, I usually round up the five best things I ate in a particular city or country. 
However, I lived in Singapore for over a year — meaning my top five favorite places are also my locals. I've shared these meals multiple times with friends and family; over these bowls of soup or baskets of xiaolongbao, some of my most treasured Singapore memories were formed. 
These five dishes / places mean so much to me and therefore I feel deserve more than just a passing mention in one round-up post. So I've decided to devote a little more space to each one and write about the top five individually.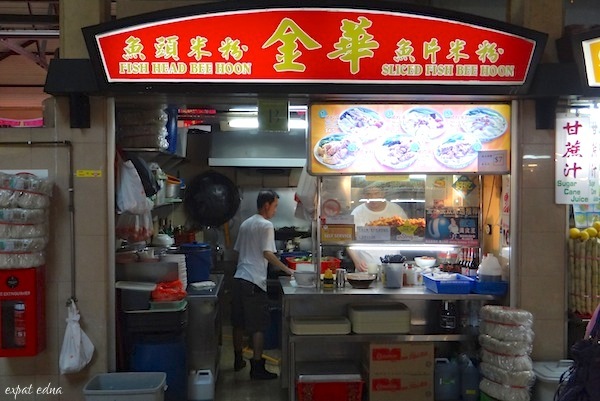 #5: Fish Meat Bee Hoon (Yu Rou Mi Fen/鱼肉米粉) — Jin Hua Fish Head Bee Hoon
There's a rule of thumb when visiting hawker centers in Singapore: the longer the line, the better the food. Singaporeans know what's what and are not afraid to queue for quality.
Jin Hua Fish Head Bee Hoon is one such place — even at 11 in the morning, you'll find people forming a line for one of their famous bowls of fish soup.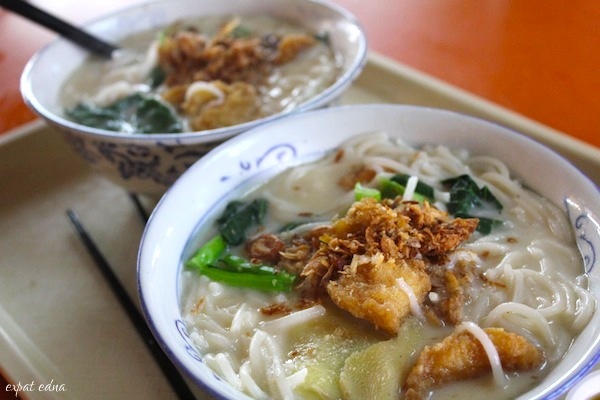 I used to both work and live just five minutes down the road from Maxwell Centre, so their number 2 — the fish meat bee hoon — became a staple of my Singapore lunch routine. Bee hoon means rice vermicelli noodles (mi fen in Mandarin Chinese); here they're cooked al dente then topped with fish slices, along with a few pieces of veg, ginger, and crispy onions. The fish is lightly fried, but you wouldn't be able to tell — it soaks up the soup beautifully and has a perfectly flaky texture.
But what really makes Jin Hua stand out from every other fish noodle soup out there?
The broth. It's…milky.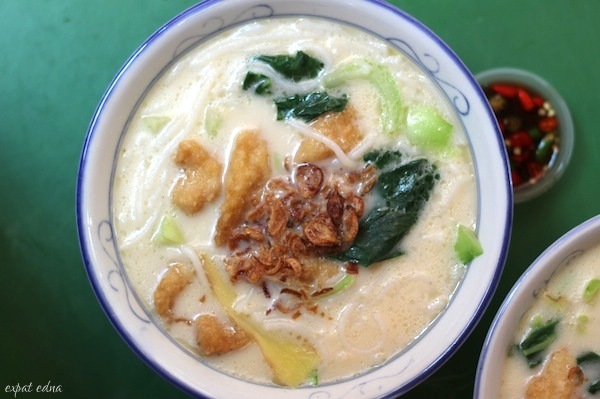 To the western palate it doesn't sound like it should work — "milk and fish? doesn't fish usually go in a clear broth?" — but TRUST ME. They must cook this broth with some kind of magic because this will be the best fried fish soup you'll ever have, and all others will be found wanting (Kate can vouch for this, as it's the first place I took her when she visited Singapore).
And because you're in Asia, feel free to slurp away. This soup is so delicious, to not do so would be insulting.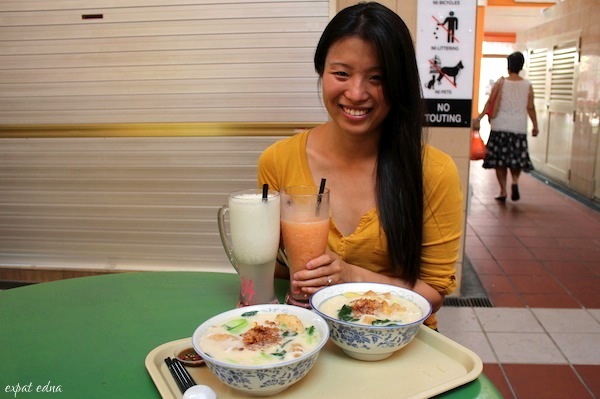 Jin Hua Fish Head Bee Hoon 金华鱼头米粉
Maxwell Road Food Centre
Stall 77
More tips on what to eat at Maxwell Center here.