Welcome to another edition of "I Love My Neighborhood", where I ask expats from across the globe to share the joys of local life they've found in their corner of the world.
If you're just joining in now, check out the other cities that have been covered so far here.
Today's guest post comes from another one of my favorite expat bloggers in Norway, Jay of From There to Here. Originally from Canada and now living in Norway (by way of a couple years in Gabon, Africa!), I love Jay's site not only for her fascinating backstory and Expatriated interview series, but also the many lovely photos she takes and shares on her travels.
Jay: Why I Love Jåttavagen/Hinna
Just about 2.5 years ago, my husband and I packed up and left our home in Canada for Gabon on the West coast of Africa. Life was full of ups and downs and a lot of adjustments had to be made from our previously easy life in North America, so when a move to Norway was put forward it seemed like the perfect change after two years in a developing country. To be honest, when we arrived in Stavanger, we were so excited about paved roads and better grocery stores that we would have been happy in any neighbourhood.
Stavanger is a fairly small city and every neighbourhood we visited had many positives. We ended up in the Jåttavagen/Hinna area primarily because of a fabulous apartment. It was a little further from centre than we had originally planned but we are so happy to be calling this neighbourhood home. It has a great mix of older established homes, new apartments and townhouses, and gorgeous landscapes.
The Views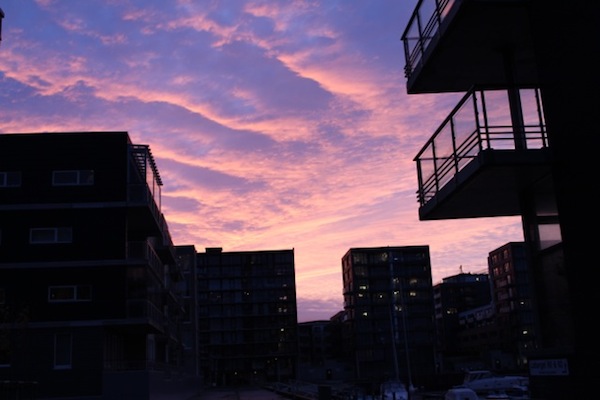 By far, the best thing about our neighbourhood are the views. It sits on the edge of a fjord, exactly what Norway is known for, and being able to look out onto the sea and mountains never gets old. We are lucky enough to have a large terrace that serves as the perfect place to watch the sunrise over the mountains with a cup of tea and the sunset behind the buildings with a glass of wine.
Helgø Meny
A grocery store might seem like a silly choice for the favourite things about our neighbourhood but it's kind of a big deal when you are an expat. Before we even moved into this area, we shopped at this store because it's new, big, well organised and most reminiscent of a store from home. We can find just about everything we need here and it's a short walk from our apartment.
Viking Stadium
While I'm not a big sports fan, there are some benefits to living in the same neighbourhood as the newly built football stadium. You can literally feel the excitement in the air on game days and flags representing the home team are hanging out of apartments. Even if we don't attend the game, we can put it on the TV, open the patio door, and hear the cheers live when someone scores. If it's a nice day and we feel like going to a game, it's a short walk over to the stadium. Apparently, we can look forward to a few summer concerts as well.
Vaulen Beach
Just up the fjord towards Stavanger Sentrum sits Vaulen beach, a favourite spot for many to BBQ, swim and enjoy the long summer days. While the water might be a little too chilly for us, it's a nice walk and a great place within the city to spend an afternoon.
Train Station
Public transit in Stavanger is mainly limited to buses but there is one train line that goes directly from the centre of Stavanger, through our neighbourhood, to the centre of Sandnes (a city that is part of the greater Stavanger region) and further. This allows us to hop a train to the heart of either city easily which is especially nice as we are now a one-car family. The train is clean and reliable and takes less than ten minutes to the centre of the city.
Long Walks
Stavanger is made for walking and biking but what I especially love about our neighbourhood are the diverse landscapes one can experience on a single walk. Starting among high-rise apartments and office buildings, to the edge of the sea overlooking mountains, down a gravel path lined with trees and homes that feel like they're lakeside, pass a couple of horses and loop up through a quiet street with a mixture of typical wooden Norwegian homes and über modern Scandinavian architecture. It's a photographer's dream.
———
About the author: Jay is a former teacher who left her job in Canada to move overseas with her husband. They started off in Port Gentil, Gabon on the West coast of Africa and now they find themselves in Stavanger, Norway. She's been blogging about her life abroad all along at From There To Here. When they're not enjoying life in Scandinavia, they're traveling.
All photos courtesy of the author.