Welcome to another edition of "I Love My Neighborhood", where I ask expats from across the globe to share the joys of local life they've found in their corner of the world.
If you're just joining in now, check out the other cities that have been covered so far here.
Today's post features Selly, a German expat who has been living in Ireland so long I originally thought she was Irish when we first connected on Twitter. She loves China just as much as I love Ireland, so I thought I'd get her to write about her neighborhood before she inevitably moves to China! (And given the budding romance with her Chinese beau, it looks like that'll be sooner rather than later.)
Selly: Why I love Sandyford 
To me Dublin isn't a particularly big city; then again it's been seven years since I first came here.
I live in Sandyford (or Áth an Ghainimh as it's called in Irish), which is one of the most outer districts of Dublin. I'm actually closer to County Wicklow (ten minutes by car) than I am to the heart of Dublin (about 25 minutes by tram). Most of the area has undergone major development in the last ten years and much of the district has been renamed to Sandyford Industrial Estate. Less than ten years ago the apartment complex and the state of the art private hospital across the street with its fancy consultant's clinic and luxurious interior were nothing but blue prints.
Escape From the City
I initially lived on Dublin's Northside but after six months of commuting for four hours a day, I packed up my bags in late 2006, bid the Northside goodbye and moved to Sandyford. I wanted to spend less time commuting to work and actually have some time for myself to do stuff instead of going to bed at 9.30pm every evening. Apart from being able to catch the sunrise, a 5.30am start really isn't very exciting, I can tell you that.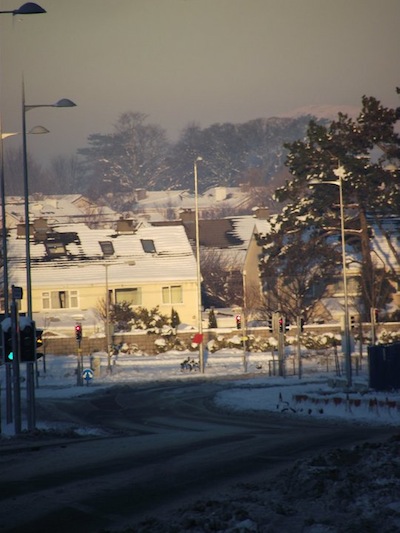 Since moving to Sandyford, I've kind of grown accustomed to this place. It's hard not to. If you're working in the area, the location is convenient and if you have a car the M50 offers quick access to Dublin's Northside, making a commute mostly painless (unless of course you catch rush hour traffic).
Around here, everything I need is within walking distance, which is handy because I'm quite sure my driving instructor is fairly close to losing his patience with me.
A Convenient Paradise
My neighbourhood offers everything from gorgeous views of the Wicklow Mountains to great food, entertainment and countless of shopping opportunities. It takes me about ten minutes to buy 500g of butter and pick up a prescription at my local pharmacy before ordering a cup of coffee at my local Starbucks. If I wanted to I could even redecorate my entire home as there are plenty of furniture stores around. Oh and if you need a new car, you'll have a hard time choosing which car dealer to pop into first. If I think about it, compared to some of my friends, I'm actually pretty spoiled.
Fresh Food Market
Sandyford is however mostly a place where people live and work, the action happens next door. Plenty of big companies such as Microsoft and Vodafone are located out here and the place is full of life and action at lunch time. Once a week there's a fresh food market down the road from me and it's a hit with all the office workers who nip out to buy some fresh stir-fry, a hot lunch, homemade sweets and fresh breads. It's actually a bit like night market I went to while in Hong Kong only at lunchtime and the food stall owners aren't as bold as they are over on the other side of the world.
Peace and Quiet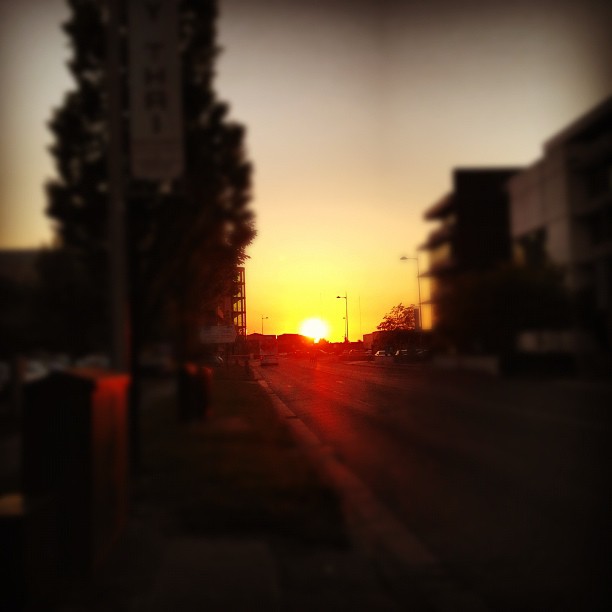 When it's time to knock off work, it gets pretty quiet around here, which is actually nice. The one or other odd house party over the weekend is more of an exception to the rule. The apartments around here are modern and perfect for young, professionals and/or couples.
Dundrum Town Centre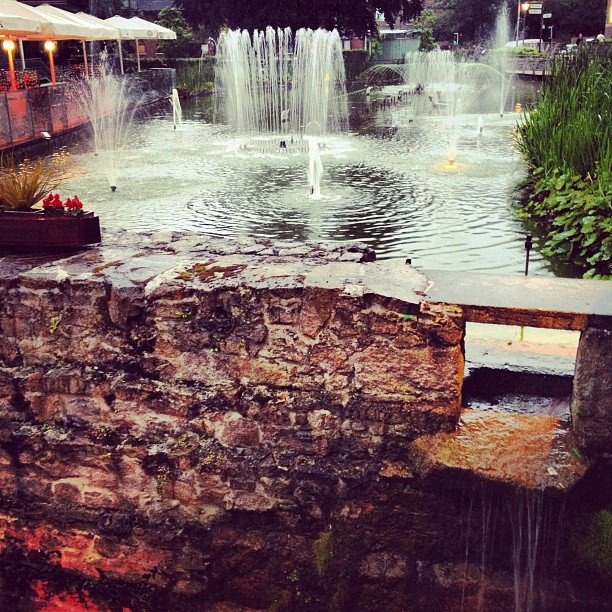 Dundrum Town Centre (two Luas stops from my front door or a relaxed 30-minute stroll) is the place to be if you're after some action. It offers a grand selection of shops and deciding what to have for dinner can be nothing short of a nightmare if you're not sure what you want. There's a gorgeous little tapas bar (if you're looking for a cosy place for a first date…) or Ireland's latest hot favourites such as Wagamamas and Nando's. There's also Asian, Indian, Mexican and Italian food you can choose from. Saturday morning and all you want is a quiet place for you, your book and some coffee? No problem! You'll find me in Café Libra, with my nose firmly stuck inside a good book. You can even find the second best hot chocolate in Ireland in Dundrum but if you want it made with love you'll have to come visit me.
While the choices are vast, I must admit I prefer to head into the city for food – mainly because my favourite Chinese Dim Sum restaurant is located in the city and I love to eat there.
Dundrum Shopping Centre is stuffed with over 100 shops, a 10-screen cinema, a couple of bars, pubs and a nightclub. The actual original Dundrum Town Centre has mostly retained its flair and still resembles a small Irish town…I challenge you to find the local Gardaí station. Hint: If you think it's on the main street, that's where it's not.
Dublin From Above
A 40-minute stroll up the mountain (or an hour if you're feeling energetic and want to climb higher) offers amazing views of Dublin. I haven't felt up to the challenge in a long time but I used to head up there to watch the sunset. Once it gets dark you can marvel at the lights of Dublin, a pretty sight at the best of times. If you've never flown into Dublin after nightfall and that's not on your to-do-list, you're missing out.
The Great Escape!
My personal piece of heaven is in Enniskerry, Wicklow. By car it's a mere stone's throw away from me. Unfortunately walking there will take you forever. There are no unsightly, modern buildings, the local pub serves tasty pub food and the many small shops invite you to poke your head in and have a look. The locals greet you and you'll have no trouble striking up a conversation about anything and nothing. Powerscourt House & Gardens is located a short walk up the hill and that's just where I love to escape to when I need to recharge my batteries. I like to head up there for a walk or to take photos and usually bring a friend for company.
Ballawley Park
Then there's Ballawley Park, which took me years to discover because I initially thought it was part of the monastery nearby. One day I spotted a playground inside and changed my mind. I went in and explored. I've been to nicer parks but Ballawley Park has one big plus: loads of green. It's perfect for a game of football, Frisbee or badminton. If that's not quite your style, you could always head to Marley Park. It's a bit of a walk but doable. The place is huge (some 300 acres or so Wikipedia says) so you'll be busy for a while. There's a playground for the kids and the park has loads of trails to explore, a waterfall and weekly farmer's market where you can get fresh produce. In the summer months Marley Park is often used as a concert venue and sometimes I even manage to catch a couple of songs without having to pay for tickets.
A Proper Farm
In keeping with the tradition I'm saving the best for last. the strangest thing I've discovered in my neighbourhood is a farm. Yes, a farm. A proper farm, you know like the ones you'd find in the countryside somewhere in the middle of nowhere. It's called Airfield and I can comfortably walk there. It's a proper farm; actually it is Dublin's only farm, with all sorts of farm animals and a vegetable garden and whatever else you can find on a farm apart from animals and stuff that grows. They have an education centre, do a lot of creative things for kids and there's even a café where you can relax after an exhausting day at the farm. The fact that I can actually say that I live in the City of Dublin but next door to a farm is just one of those things I file under 'only in Ireland'. 
———
About the author: While she seldom talks about Ireland and Dublin in her blog, Selly does share some of Dublin's quirks on Twitter – mainly through photos. When she's not blogging or tweeting, she's out and about enjoying herself. She meets friends, teaches English and German and learns Mandarin Chinese. Coffee is her weakness! Find her over at Selly's Little World or on twitter at @Selly06.
All photos courtesy of the author.