Welcome to another edition of "I Love My Neighborhood", where I ask expats from across the globe to share the joys of local life they've found in their corner of the world.
If you're just joining in now, check out the other cities that have been covered so far here.
Today's expat guest post comes from Amanda, the American behind Farsickness and another one of my favorite bloggers from the 'expat teachers in Korea' crew. I knew I liked her when I read the description of her blog name: "Fernweh n: 1. an ache for the distance; literally, farsickness" — I mean, who amongst us travelers doesn't understand that exact feeling?
Amanda: Why I love Cheonho-dong
The city of Seoul is extremely large, separated into 25 gu, or districts. Each gu is then split up into dong, which are neighborhoods. As an English teacher in Korea you usually have very little choice in where you live; because the school pays for your apartment, they choose the location.
I was incredibly lucky when I moved to Korea and was given an apartment in Seoul's Cheonho-dong. This neighborhood, in Gangdong-gu, is considered to be a prime location to live based on Feng shui principles and the name literally means "a thousand of houses". I don't know a lot about Feng shui, but I do know that Cheonho is a great place to live. Why do I love this neighborhood?
A small town feel…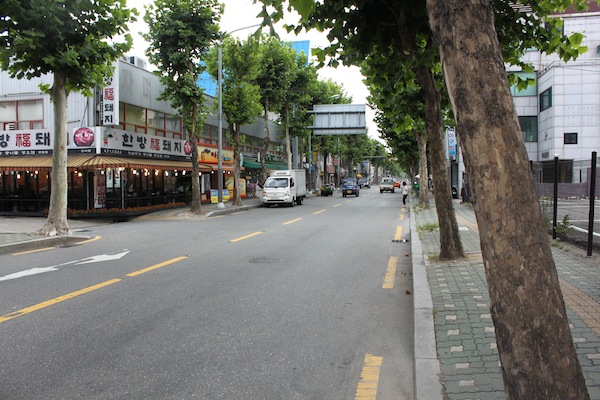 My apartment is about a block off the main road, in the middle of many tiny criss-crossing streets the size of alleys. There's a convenience store, Korean takeaway restaurant, dry cleaner, barbecue joint, and a market within steps from my building. The woman at the Korean restaurant knows my order, the dry cleaner gives me a discount, and the building security man always has a huge smile on his face when I come and go. Seoul has that typical big city coldness, and it's nice to feel like I belong, especially in a place where I stand out as a foreigner and can't speak the language.
…but not too far from the action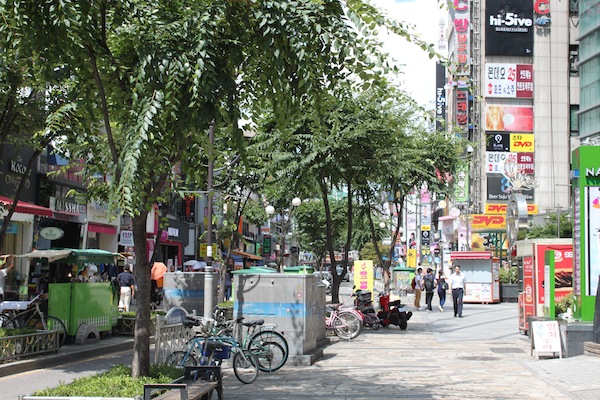 About ten minutes down the road I can find all the big city conveniences I want. In Korea rodeo streets are home to shopping, bars, and restaurants, and Cheonho has one of its own. Anchored by a large Hyundai Department Store, Cheonho's rodeo street is full of bars, both western and Korean style. Though they aren't as popular, or crowded, as the famous foreigner neighborhood of Itaewon or the university area of Hongdae, it's a great place to grab a drink after work with coworkers when you don't want to stray far from home.
Good eats
My apartment's kitchen is tiny and without an oven. Korea is considered to be one of the most expensive countries in which to shop for groceries, and I'm not well-versed in cooking with common Korean ingredients. Because of this I eat out A LOT. Luckily, there is a lot of variety near my apartment. Besides the typical Korean options there's also a Japanese place, a restaurant serving up piping hot bowls of Vietnamese pho, and a bunch of coffee shops with fresh sandwiches and salads. The best part is that most of these meals are under $10!
A bit of nature
The Han River splits Seoul in half and along most of its banks runs a series of parks. I'm lucky enough to live about a 15-minute walk from one of these. This portion of Hangang Park features trails for running, walking, and biking, exercise equipment, some grassy patches to sit out on, and a few convenience stores where I can grab some food or a cold drink. I love heading over to the the river after work to catch the last sunlight of the day and unwind with a beer and a great view of Seoul's skyline.
Easy access
I love my neighborhood but I spend a lot of time in other parts of Seoul meeting up with friends and trying to find the city's best restaurants. Although Cheonho is tucked away near the border of southeastern Seoul, it is located on one of the best subway lines. Line 5 runs right through the middle of the city making it an easy ride or quick transfer to get just about anywhere.
A recognizable name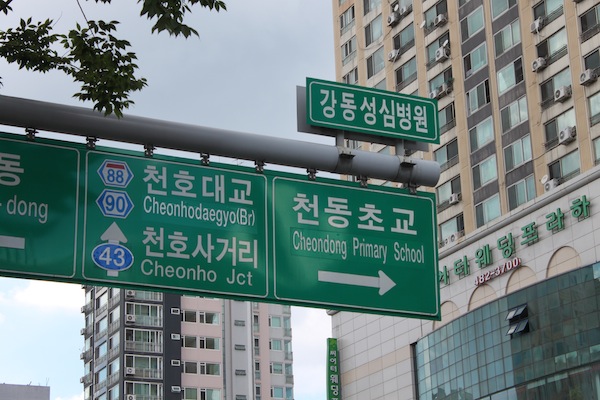 This might not seem important to a lot of people, but I don't speak Korean well and having a subway station that doesn't sound like any other or have a vowel sound that is impossible for my mouth to form is a lifesaver. This means I never have trouble getting home in a taxi! It doesn't take me repeating it five times or being driven to the wrong place. One "Cheonho yuk" and I arrive with no problems to my station.
There are a million reasons why I love Cheonho and I think I hit the neighborhood jackpot when I moved here!
———
About the author: Amanda is an American currently living in Seoul, teaching writing to elementary ESL students, and planning her long term, post-teaching contract trip. She blogs about travel, food, elephants, a love of Italy, and life in Korea over at her blog, Farsickness. You can also find her on twitter @farsickness and Facebook.
All photos courtesy of the author.
Related reading: Seoul Nightlife Guide