Welcome to another edition of "I Love My Neighborhood", where I ask expats from across the globe to share the joys of local life they've found in their corner of the world.
If you're just joining in now, check out the other cities that have been covered so far here.

It's no secret that I love Thailand, yet for some reason this series has yet to feature the country. That changes today — I'm excited to present this guest post from one of my favorite bloggers, the talented Susan of Splendor in the Lemongrass. While I love reading about her travels around Southeast Asia — she's currently planning a trip to Burma, and this food post from Singapore made me drool — it's nice to finally learn a little bit more about the area she currently calls home in Chiang Mai.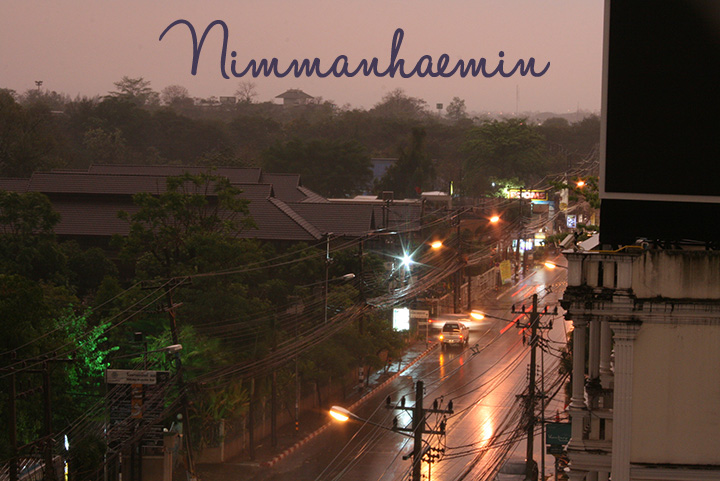 Susan: Why I Love Thanon Nimmanhaemin
Bright and cheery Nimmanhaemin Road lies in a sweet spot just west of the old, moated city in Chiang Mai and just east of the mountains. Close to the young blood of Chiang Mai University,  the street is known as the city's hip area, with bars and coffee shops, restaurants and late night food carts cramming onto the sidewalks and to the sidestreets that flank the main road. Named after one of Chiang Mai's richest, oldest families, the street was home to no more than a few noodle shops and low rise dwellings as recently as 15 years ago. When Andy and I arrived in Thailand, the bartender at our very first hotel recommended that we check out the Nimman area. So we did!
A Study in Contrasts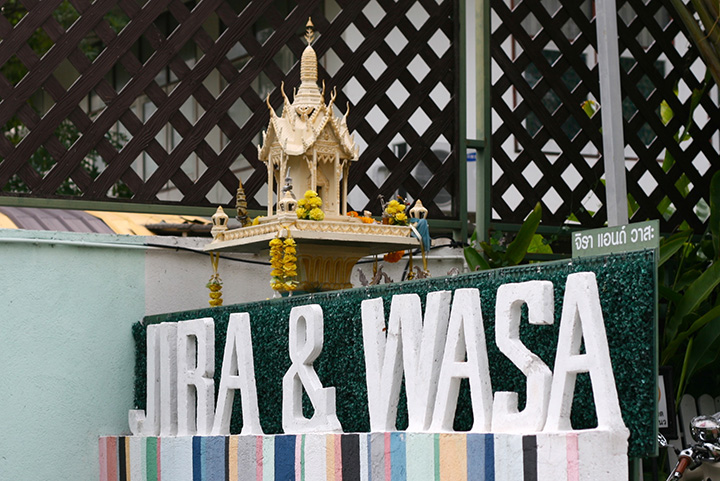 While the commercial operations along Nimman certainly live up to the hip hype, just rounding the corner to one of the sidestreets provides a whiff of more traditional Thai society. On clear nights, the ancient temple on Doi Suthep lights up, a beacon of ancient culture in a sea of Singha. Spirit houses sit with all of their quirky, traditional splendor right in front of modern restaurants and street art. A quick walk behind my building means encounters with scratching roosters and grandmas pounding out curry pastes, while a short walk in front yields a row trendy, international restaurants. The fruit vendor I visit in the mornings speaks a northern Thai dialect, while the bartender I'll see later serves glasses of wine in English with an accent more Kiwi than Thai. I love this mix of old and new, traditional and modern, old blood and young; I don't get bored easily.
Nightlife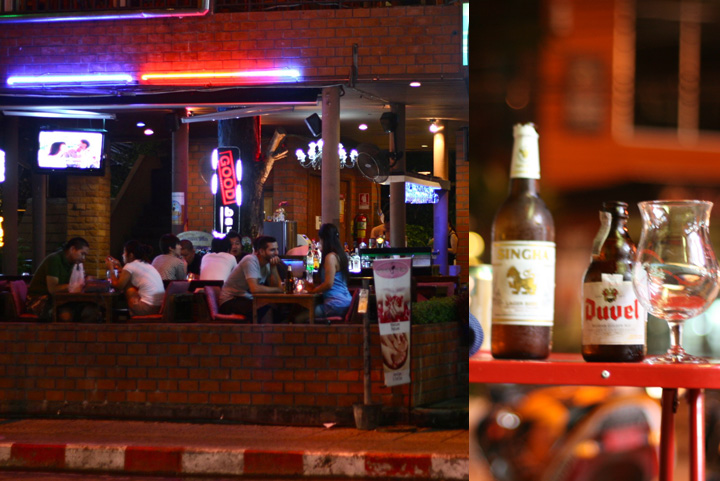 I live within walking distance of the city's trendiest bars, many of which have live music. As a new person in the city, this was really nice, in that I could walk out of my apartment and into a party, albeit a party where all the girls are prettier than you and everyone is speaking a language you don't fully understand. Most of the time when we go out, it's to the liquor store down the street that sets up tables on the sidewalk where you can sit and drink a beer while watching the people go by.
Cheap Eats: Fruit Lady, Curry Man, Roti Man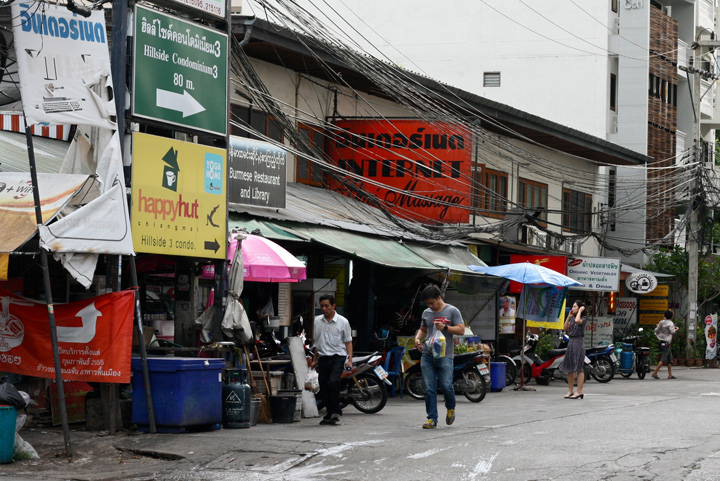 I'm lucky to live near a row of delicious and inexpensive restaurants that we've named after their purveyors, since none of the signs are in a legible Thai font. After class, I rush to grab a plate of Curry Man's daily wares for about 20 baht ($0.66) before he closes shop. Then, I'll snag a bag of 10 baht ($0.33) precut pineapple from Fruit Lady for dessert. The Fried Chicken Place serves gai tod more tasty than what you get in America's south, and piece makes a great afternoon snack. For dinner, I'm likely to go to Organic Place, named so in my head because of the sign outside reading "organic," though I'm not convinced the veggies served are pesticide free. I love this little joint for its honest and fresh preparations of every Thai dish you've dreamt about for the equivalent of $1. For dessert? Nothing's better than Roti Man, who serves sweet flatbreads wrapped around sliced bananas and a beaten egg and grilled.
International Food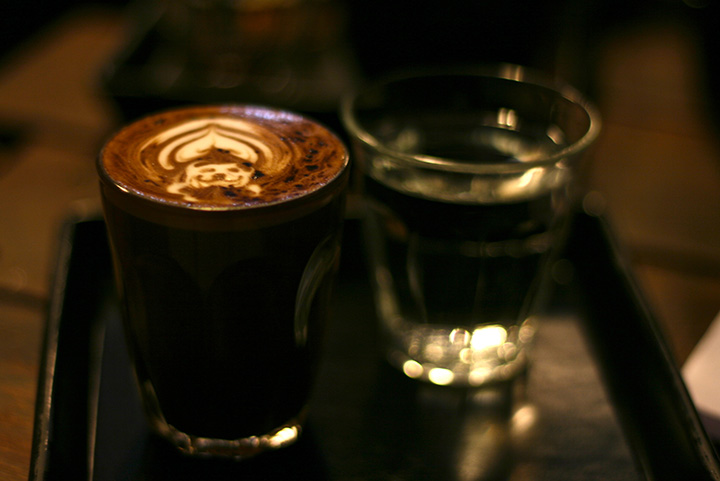 While most of the food I eat is Thai, I can't pretend that by moving to Thailand I suddenly lost my taste for things like cheeses and grains other than rice. The Nimman area is home to a diverse bunch of international restaurants, including a couple tapas places, a handful of Italian joints, some good western breakfast options, as well as your Korean and Japanese restaurant varieties. There are also loads of coffeeshops brewing cups of caffeine ranging in quality from drinkable to outstanding; the picture above is a chocolate and coffee creation by Ristr8to, my favorite of the bunch.
Visual Interest and Positive Vibes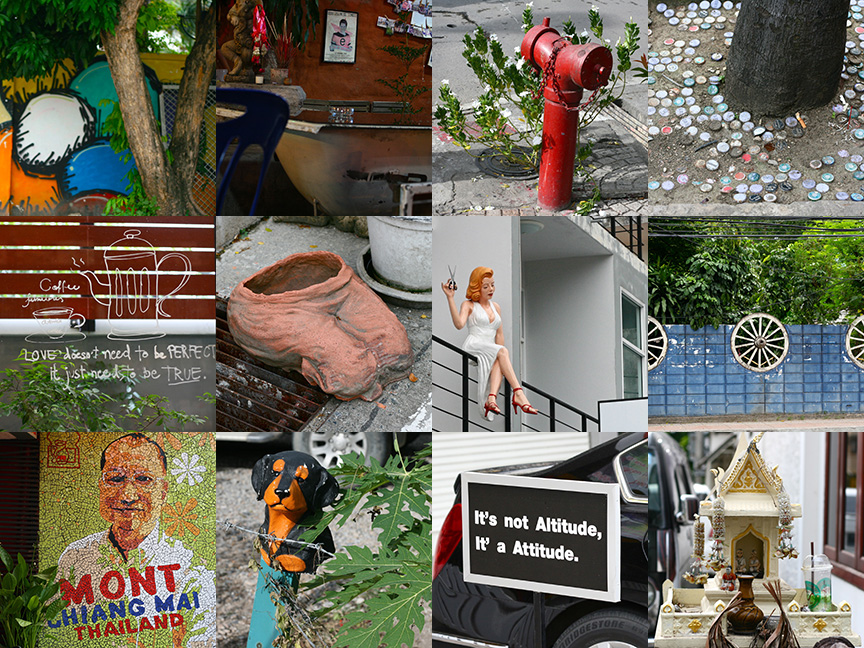 While some folks disregard the Nimman area as too westernized or inauthentic, I find it artsy, quirky, and full of weird visual details. The collage above has a bunch of items I encountered on a 10 minute walk, including: a mural, a bathtub table and hindu sculpture adorned with buddhist flowers, flowers growing next to fire hydrant, a sidewalk tree planter covered in bottle caps, a poem about love inscribed on glass, an empty planter shaped like a lap, a scissor-wielding Marilyn Monroe-esque statue, a fence made with old wooden wheels, a mosaic outside a sweet shop, a plastic dog head on a barbed wire fence by a papaya tree, a sign outside a trendy clothing store featuring incomprehensible English, and a spirit house. The area seems to be constantly evolving, which makes makes going for walks a great adventure.
———
About the author: Susan is a Texan (and proud of it!) with a history in environmental consulting, hookah bar management, and slinging co-operatively-owned beer. Currently, she's a part-time Thai student and freelance copywriter living in Thailand with her video game-programming, beer-brewing, dandy partner Andy, and they're constantly cooking up their next big adventure. She writes the website Splendor in the Lemongrass, where the content is everyone's two favorite things: explicit food porn and travel navel-gazing. While attempting to write, she lives on Twitter under the @siouxzen handle.
All photos courtesy of the author.