"Do you know HOW DAMN LUCKY you are to live here? You should be more grateful."
Rarely a week went by when I didn't hear this phrase growing up. My parents grew up — and suffered greatly — during the turbulent, violent Cultural Revolution in China. They immigrated to the United States as graduate students in 1987 so that they could safely speak openly and honestly, and in hopes of one day raising children in a truly free country.
To them, I never seemed grateful enough — for my education, for my food, for a roof over my head — and as a child, I thought my parents were just being overly dramatic. It wasn't until I lived in China on my own, where the legacy and consequences of the Cultural Revolution still live on, that I finally understood just how good I had it.
I truly was lucky to be born an American.
So on this Fourth of July, I'd like to say: Thanks Mom and Dad, and Thanks America — You've given me so many incredible opportunities and a life I would never have known in China.
Freedom of Speech 
To be able to express my views and speak my mind without fear of persecution is an incredible, and under-appreciated, privilege. Those brave enough to be dissidents in China…simply disappear. We were all relieved when my Dad received his American citizenship, as he is incredibly outspoken and we were afraid one day his words would have serious consequences. Now with an American passport, should he ever seriously piss them off, the worst thing China could do is simply deport him.
Freedom of Information
You think the Great Firewall is a pain in the ass to get around? Try living behind it and not even knowing what you're missing. I appreciate that in America, I can hear both sides of an argument, and not be told what I must think. When the government does something wrong, when a corrupt official is exposed, when there is a food scandal: the American people hear about it.
Living under censorship is like going through life reading nothing but redacted Army letters: you know you're not the getting the whole story, but there's nothing you can do, and it's incredibly frustrating.
Exposure to Western Food
Thanks to growing up in America, I developed a diverse palate and ate dairy and bread — two food groups that don't really exist in the Chinese diet. My parents only cooked Shanghainese food (which I love, don't get me wrong; they're excellent cooks) but if it weren't for 12 years of American school lunches, I don't think I would love or appreciate Western dishes like lasagna or Caesar salad nearly as much. Still can't get into cheese though.
Also, a well-balanced diet means I grew up taller and broader compared to most Chinese women. To them I may look like a monster, but I like to think I look healthy, instead of a calcium-lacking stick.
Credit for Trying
Asians have one of the highest rates of depression and suicide, partly due to the pressure put on everyone to succeed and excel. If I came home with anything less than an A+, I was reprimanded; when I did get an A+, I got nothing. To many Asian parents, you don't get credit for trying, and you shouldn't be applauded for succeeding because you should just always be the best.
As I grew older, I adopted the American idea of, "It's okay so long as you tried and gave it your best." My best might not have been good enough in China, and I shudder to think of the low self-esteem I'd still have today.
Different Set of Values
The Chinese put a lot of emphasis on having a male heir, and having tangible symbols of wealth: fancy cars, expensive handbags, etc. Luckily my parents aren't like that anyway, otherwise I could have ended up just another superficial ladder-climbing Shanghainese.
Racial Equality
Growing up in a very diverse community — mostly Caucasian, but there were also African-Americans and Hispanics at school — means I don't really notice race. Growing up in China would have meant a homogenized racial identity, meaning I would be staring at every white person on the street.
Culture
Bonfires. Hometown diners. Wholesale clubs. Hersheypark. Drives through the country. Mini golf. Homecoming. Peach cobbler. Disney. Funnel cake. The York County Fair. Fundraisers. Giving to charity. Thanksgiving. CHRISTMAS.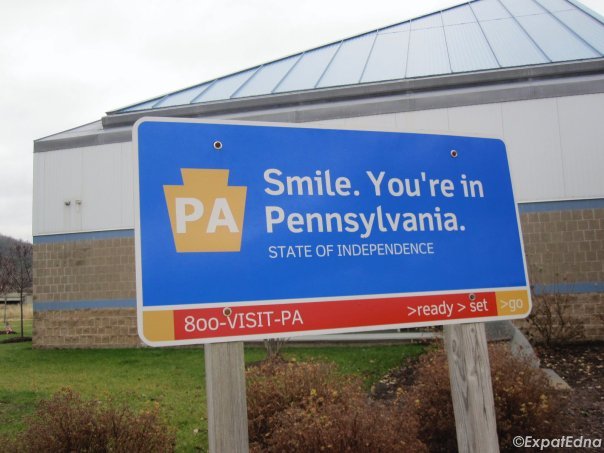 Safety and Healthcare
If I were caught in a burning building, I know firemen would come relatively quickly.
If I get run over by a car, I know someone would probably help me get to the hospital.
If I'm in a 50-story building, I don't have to wonder about the workmanship and if it would hold during an earthquake.
If I get food from a street cart, I know it probably won't be laced with melamine.
If I go for a walk, my lungs will be filled with fresh air from the clear skies, and not pollution particles from a constant haze.
If I go to the hospital with a fractured foot, I know the hospital will be up to code, I'll get medical treatment from this decade; and the doctor will treat me like everyone else, not better or worse based on how much my family can bribe him.
Exposure to Religion 
I'm not religious, nor are my parents — but they still sent me to a Presbyterian church as a child to make sure I was exposed to good values and good people. When I got older I left the church, but I've always appreciated that I was able to experience it (it truly was full of genuinely good people; there were no politics involved); and had the freedom to choose, or not choose, a religion.
Working Hard = Success
The concept of, "It's not what you know, but who you know" is universal, but more true in some countries than others. In America, those who work hard become valedictorian, become manager, become president. In China so much rides on guangxi, or personal relationships and using who you know, that often people who don't deserve certain opportunities get them anyway because daddy happens to know a guy.
Language
The job market is pretty much my oyster as a native English speaker. People will pay me ludicrous amounts of money to teach English; I never have to worry about being rejected for a job because I can't speak English. When I travel to other countries, other people speak my language — I'm not saying this is good or bad, that's a separate argument — but I have to admit it's convenient.
That Little Blue Passport
I am absolutely in love with my passport. It means I am free to travel to almost anywhere in the world; instead of long, drawn-out, expensive visa processes or exhaustive embassy interviews, I painlessly receive simple tourist visas to countries like the UK and Australia. To me, it's one of the ultimate symbols of my freedom and I am so grateful every time I look at that eagle on the cover.
The American Dream
In this wonderful country of opportunity, my parents were able to become a professor and a nurse — and through that, they were able to give my sister and me the life they never had. We had pets, we had a pool in the backyard, we each had a car; I had sleepovers and Girl Scouts and trips to the beach and Disneyworld. I never wanted for anything. I am truly lucky.