There have been a lot of gray days lately. I don't just mean the weather — I mean my mood. I've felt very blah, very meh, and every other sound that's usually accompanied by a shrug of the shoulders.
I honestly thought about writing down all my grievances in this post. I miss authentic, cheap Asian food. I miss the sun, and temperatures above 60F (why am I wearing a sweater indoors in the middle of June? Wrong, wrong, wrong). I'm frustrated that I can't fit (nor afford) a couch in my tiny studio, because it could really add that cozy factor that my flat is missing. The list goes on.
A fellow blogger recently said about living in Paris, "Just knowing that you are a resident of this city is an enormous ego stroke." Yet for me, it's not — which makes me feel incredibly guilty.
I have a great job, I have wonderful friends, I live in freaking Paris. But I can't shake the overwhelming conclusion that this city just does not do it for me.
But negativity is never an attractive quality, so I decided to combat all that gloominess and forced myself to think of reasons I love living in Paris. I ended up with 13:
1. My flat
Yes it's a studio, and yes it is unfortunately couch-less, but nonetheless, my flat is hard to beat (alright, that is a little bit of an ego boost. I'm 23 and have my own place in one of Paris' poshest neighborhoods? I love my job.) For starters, I've got an oven — which, as I've mentioned before on this site, is heavenly for anyone who's spent time in Asia. Freshly-baked scones, anyone?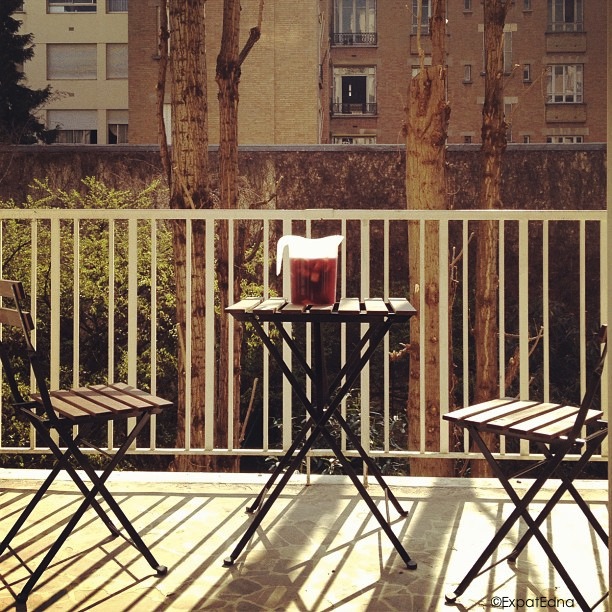 I also have a balcony, which apparently is not that common in Paris; from said balcony I have a lovely view of the gardens in my backyard and even in June it still smells spring-time fresh, especially after an all-night rainstorm. My neighborhood is also incredibly quiet, so I rarely encounter anyone except the occasional jogger or neighbor.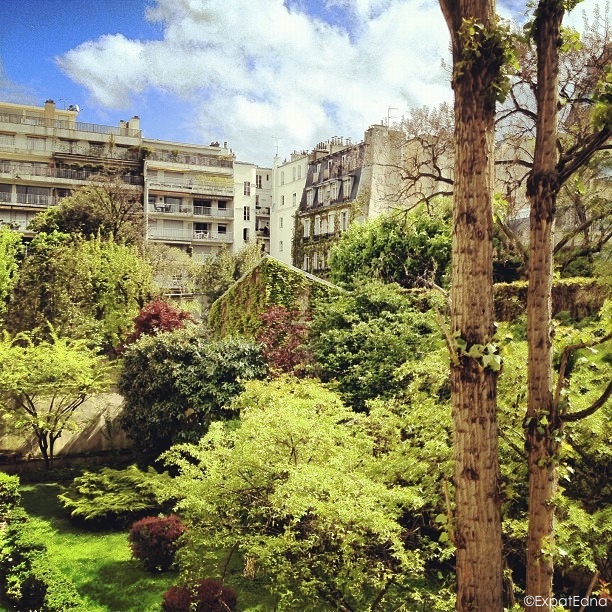 But what I love most about my flat? The humidity. After years of living in Asia, where clothes take days to air-dry, to have my shirts and jeans dry within mere hours in my Parisian flat is almost magical.
2. Rollerbladers
Rollerblading isn't just for the children and people stuck in the 1990s — it's still a legitimate method of transportation here! In fact, there's even a weekly Sunday blade and I recently witnessed an all-day rollerblading convention in front of the Trocadéro. As someone who used to be a roller addict, and who never got over the loss of her blades, the city's embrace of rollerblading makes my inner child happy.
3. Metro station buskers
I've never heard such talented buskers as I have in Paris, from saxophonists and clarinetists to full on string-octets and jazz bands. For someone who's played music for over 15 years, I fully appreciate the abundance of music in my daily life.
I've found some of the most unusual, most talented buskers play at the FDR metro station. My theory is that because this station sees a lot of foot traffic — it connects the popular lines 1 and 9 — and the long hallways carry sound well, the best buskers get this primo spot. From accordionists to sopranos to er hu-ists, almost every busker I've encountered in this station has made me stop in my tracks and actually listen for a little while.
4. Food Quality
I know it sounds odd, but I'm grateful that the French take their food standards seriously. I like knowing that even when I go to McDonald's or Domino's, I'm actually going to get proper meat, and not some questionable meat-like substance. I've developed a trust in French food that the FDA can't touch with a 10-foot pole.
5. Line 6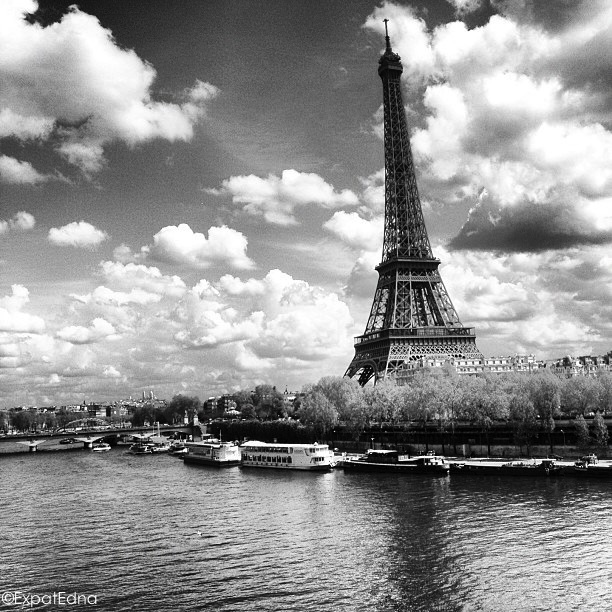 The metro line that takes me to work and class on an almost-daily basis, Line 6 features a spectacular view of the Eiffel Tower over the Seine. Ride it far enough, and you'll also pass the impressive Le Monde headquarters building, which for a journalism nerd is almost just as thrilling as seeing the Eiffel Tower.
6. Café culture
When I first arrived in Paris, I was surprised to find all the chairs at restaurants and cafés facing outward; so that even when empty, it still seemed as if the chairs were nonchalantly judging the people passing by. I love a culture that appreciates people-watching; as well as one that lets you nurse an espresso for three hours as you do so.
7. Trocadéro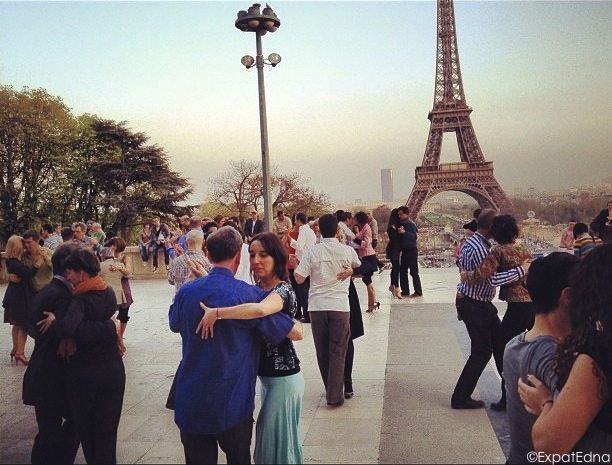 Of course, living in the 16th means I pass by the iron lady every day; usually multiple times a day. I love walking onto the Trocadéro in the early morning when it's empty, before the hordes of tourists arrive — it feels like I've got the Eiffel Tower all to myself. I love that in the evening, if I want to see the twinkling light show, I just simply have to walk a couple blocks over. I love that there's always something going on at Trocadéro; I especially enjoy going at dusk with a bottle of wine and a friend and watching the weekly tango group dance quietly against a beautiful backdrop.
8. Random architecture
I'm always stumbling onto random structures I've never seen before, many of which I'm sure had a purpose in olden days, but currently just seem to delight in confusing passers-by. Giant arch? Sure. Ornate church? Why not. These little architectural finds always keep me on my toes and remind me that even if I stayed for years, I will never, ever know all of Paris.
9. Themed metro stations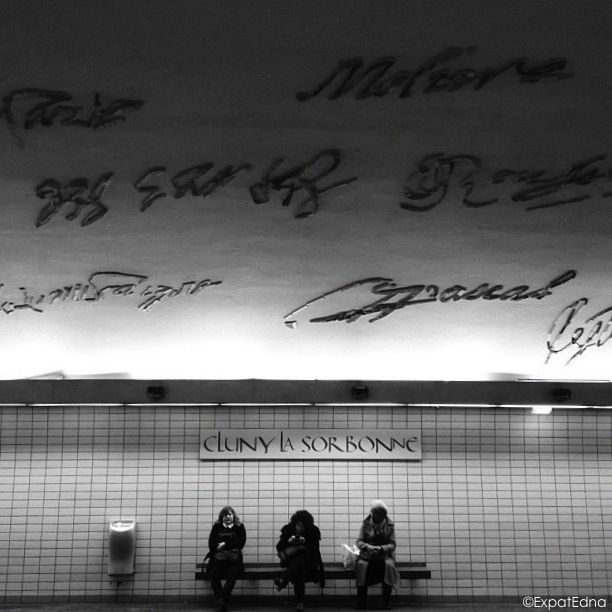 As much as I despise the Paris metro, I do get a small joy from coming across specially designed, culturally relevant metro stations — like Concorde, which is covered in tiled letters that make up the Declaration of the Rights of Man and the Citizen; or Louvre-Rivoli, whose station font, lighting, and featured artifacts makes you feel like you're in the museum before you even leave the station. My favorite is the Arts et Métiers station, which is lined in copper and feels like the interior of a submarine; evoking Jules Verne.
10. Picnic-ability
With the abundance of parks and public space, at any point I can just grab a random assortment of food, plop my butt down almost anywhere, and eat it: in the jardins, the plazas, even on the steps of churches and buildings. I'm not sure why public eating makes me so happy, but it does.
11. High and low vantage points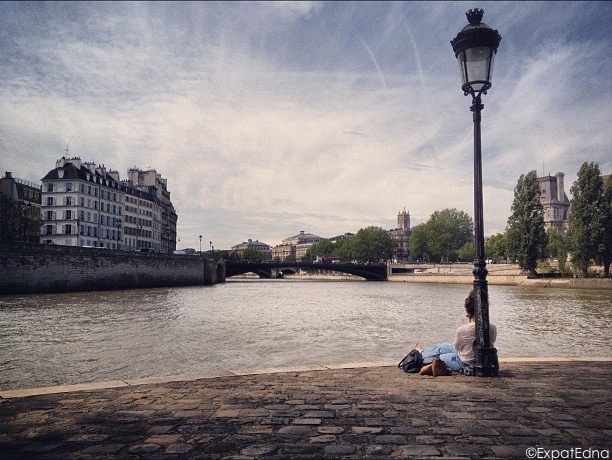 There are two things I absolutely love, and almost need, when I move to a new place: a vantage point from which to overlook the city, and some sort of body of water. Paris has Montmartre, which is located on a hilltop and where I go for one of my favorite panoramas of the city; and the Seine, which is perfect for any occasion: romantic afternoon strolls, relaxing post-lunch gelatos, laid-back apéros, or easy late-night wine rendezvous with girlfriends.
12. My neighborhood locals
Even though I've never been in his boucherie, the local butcher recognizes me and waves every time I walk past the shop. I also have a favorite cashier at my neighborhood grocery store; she works every day, and because I have the appetite of a teenage boy I find myself at the grocery store nearly every day, so I always wait in her till line so that we can chat. Since discovering that we both speak Mandarin, we've only become more happy to see each other and converse in a mixture of French and Chinese that I've dubbed Frinese.
13. Cheap and delicious wine, cheese, bread
I didn't used to care about these foods. While other expats complained about missing a good Bordeaux or a sharp bleu, or bread that didn't taste like a sweet slab of butter, I figured less alcohol, dairy, and carbs was probably not the worst thing for my body.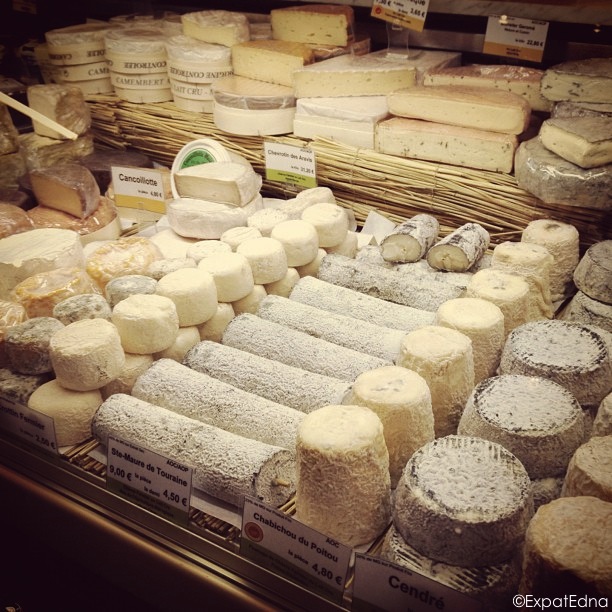 Then I discovered French wine, cheese, and bread. For €6 I can enjoy a bottle of the best Beaujolais I've never heard of, a wheel of camembert, and a fresh baguette to boot. And now that I know what real bread tastes like, I can't go back. If there's any reason I might be scared to leave France, wine, cheese, and bread withdrawal is it.
So life in France isn't all that bad. What little things do you love about Paris?