Today is my 23rd birthday.
First off, I am one of those people who love their birthdays. Like, I consider it a holiday on equal standing with Christmas and New Year's, and have a one-month countdown that makes my friends and family roll their eyes every year.
So I love that for the last five years, I've found myself living in a different city on every birthday.
Each one has also seen me at very different stages of my life (both expat life, and in general). As I looked through old photos while putting together this post, I found it funny to think about what has changed from year to year – my priorities, my personality, my hair — and what hasn't.
2008: Dalian
I turned 19 in the northeastern city of Dalian, China. Back then, there were few foreigners in Dalian, so the expat circle was very small and close-knit. On my birthday, almost all of those expats came out to celebrate over a large dongbei-style dinner and drinks (hence the Chinese cakes — I honestly have no better photos of that night).
I had no idea who I was then: I was newly independent and had just discovered what an expat was, and what that life entailed. But thanks to the friends I made there, Dalian taught me to crawl out of my shell. I discovered a whole new side to myself; one that up until then had been stifled in central Pennsylvania.
2009: Shanghai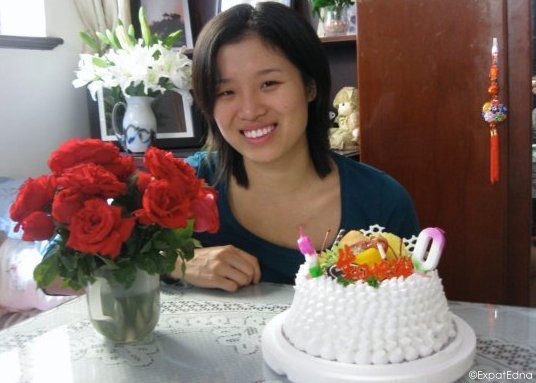 I turned 20 soon after I returned to Shanghai; this time for an internship. Choosing which internship was probably the hardest decision I had to make that year: a paid position with a magazine in Beijing, or an unpaid one with a popular city blog in Shanghai. Despite the one in Beijing sounding better (proper publication; paid) I went with my gut and chose to stay in Shanghai. That's when I learned it's better to trust your instincts and not always follow the money  — staying in Shanghai led to a summer that changed my life in several ways, both professional and personal. Thanks to that decision, 2009 was the year I learned how to be truly self-confident, and to shout that confidence to the world.
2010: Elizabethtown
My 21st was also the day of graduation. The night before, even with two mates visiting all the way from Australia, I actually didn't get drunk (because I refuse to be hungover on my birthday; I also didn't feel like looking like a lush in front of my traditional Chinese relatives who had come into town for the occasion). I indulged in a handful of celebratory drinks from friends who insisted on buying me shots; went back to campus and watched the Class of 2010 set a couch on fire; then drank a gallon of water and was in bed by 2. In the morning I graduated with a bachelor's in political science, packed up my apartment and said good riddance to college. Two weeks later I left home for good and embarked on a brand new adventure in Asia.
2011: Singapore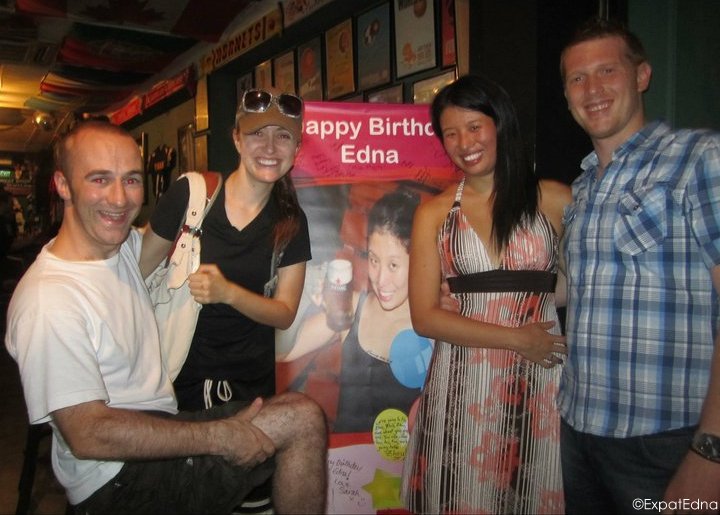 By the time I turned 22, I was completely settled into my expat life in Singapore: I had a proper job, an incredible flat, a serious boyfriend. I also had a large social circle, and the celebrations lasted all weekend; including a chilli crab dinner with my closest friends to a big party on the Saturday night. The owners of a local British pub let me have their place for the night for no charge, and even threw in discounted drink prices all night (and they even made that lovely banner). It was an unforgettably fun party that lasted until 6 am; everyone I knew in Singapore came out to celebrate. I felt so loved after that night — I'd come a long way from the shy, self-doubting expat I was at 19.
2012: Paris
This year I'm turning 23 in Paris. It's the first birthday that I haven't planned a party, a dinner, or even drinks to celebrate — this year, I'm doing absolutely nothing. Mike has flown in from Singapore to visit me for a week, and I'm happy just having him around. In fact, I felt perfectly content seeing in midnight with Mexican food, a glass of red wine, and The Inbetweeners Movie. And while I originally planned for us to go on a day trip to Giverny or Epernay, now I can't be bothered and am looking forward to staying in Paris where I'll have breakfast in bed, lunch at Angelina, and dinner at Verjus. Oh god, I'm getting old.
 Where do you think I'll be in 2013?