Part 2 of New Year's Eve in Sydney. Part 1 can be found here.
So after this stunning sunset…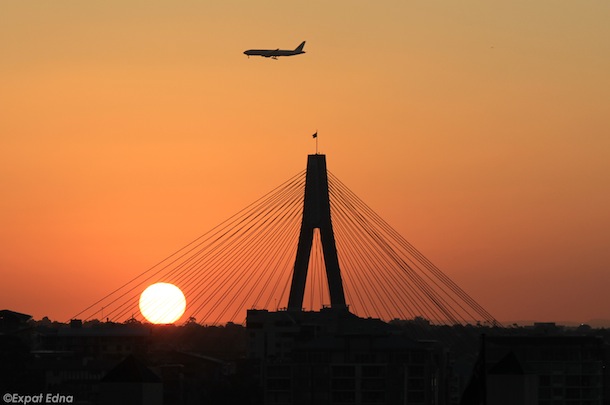 …it was time to make our way to Sydney Harbour for the main event — the world famous midnight fireworks. But first:
Family Fireworks: Turns out Sydney actually has two fireworks shows on New Year's Eve. The first, the "Family Fireworks", occur at 9 PM — presumably for those with kids they want to put in bed by midnight (though I believe everyone should be allowed to stay up on New Year's Eve!).
Mike and I had just returned to our hotel to put away our glassware and leftover food when these began, which again was a lucky move — turned out from our hotel's tenth floor we had a private and unobstructed view of the fireworks in Darling Harbour. Plus, the Family Fireworks seemed to focus most on Darling Harbour; continuing long after the ones at Sydney Harbour ended.
Midnight
The Rocks: This was the part I was worried about. I'd read that to claim a really good position for the fireworks, you needed to stake out a spot by 6 PM. We didn't head out towards the harbour until 9:30, and to say the streets were packed by then would be like saying the Amazon just has a few trees. I was terrified we wouldn't find a spot to see the Opera House — for me, simply seeing fireworks in Sydney on New Year's Eve wasn't good enough. What I always wanted was to see the fireworks AT the iconic Opera House.
We had a few scares. At one bridge, we were barricaded back by police, who said there were already too many people in the harbour area. Then, after we were let through, we elbowed our way through the crowd but kept reaching only mediocre vantage spots. We even pushed all the way to the end of the street and found ourselves almost directly under the Harbour Bridge, which would have been good enough for most — but from there we weren't able to see the Opera House. So no bueno.
Walking back through the streets, we found a growing group of people pushing to get through a small gate. Security was slowly letting people through, and we decided to get in line. Turns out, it was the entrance to The Rocks!
As we'd both just arrived in Sydney, neither of us knew the city layout or that The Rocks was the place to be — or that we had been walking directly parallel to it for the last hour. We'd timed it extremely well; only a few minutes after we went through, security stopped letting people in and said the area was at capacity.
I couldn't believe our luck — with only an hour to go until midnight, we had managed to snag a prime viewing position. From where we stood, we had the Harbour Bridge to our left and the Sydney Opera House to our right!
I was ecstatic; something I'd dreamed of for years was unfolding perfectly before me. Estimates say 1.5 million people were in Sydney for New Year's — and it felt like every single one of them was down in Sydney Harbour with us. The atmosphere tingled with thousands upon thousands of noisemakers, sparklers, silly hats, and snuck-in bottles of alcohol. We were surrounded by people from different countries, all speaking different languages, but everyone's excitement was palpable.
After the most exhilarating countdown I've ever been a part of, MIDNIGHT struck — and $6.3 million dollars' worth of fireworks exploded into an unbelievably spectacular twelve-minute show, accompanied by a soundtrack of Australian contemporary music and the additional symphony of people shouting and cheering all around us. It was absolutely incredible.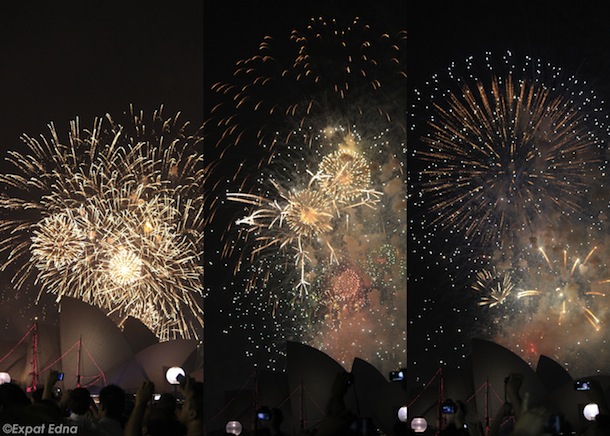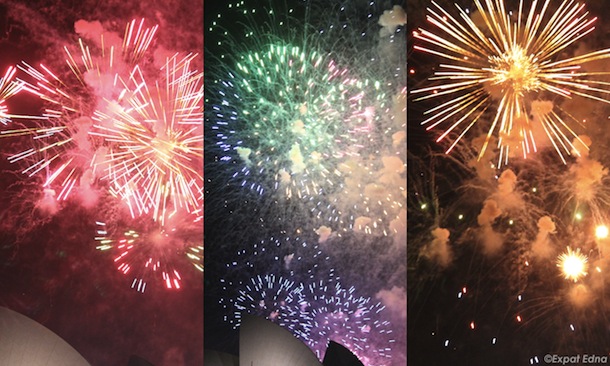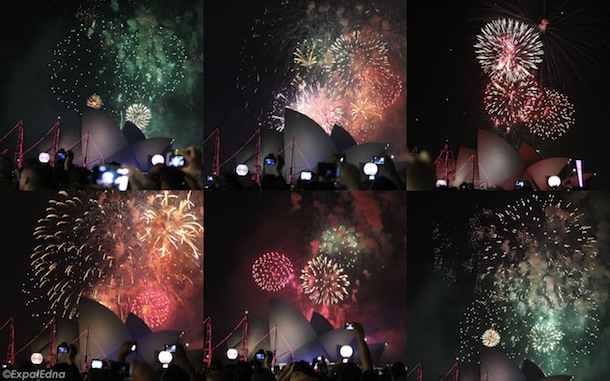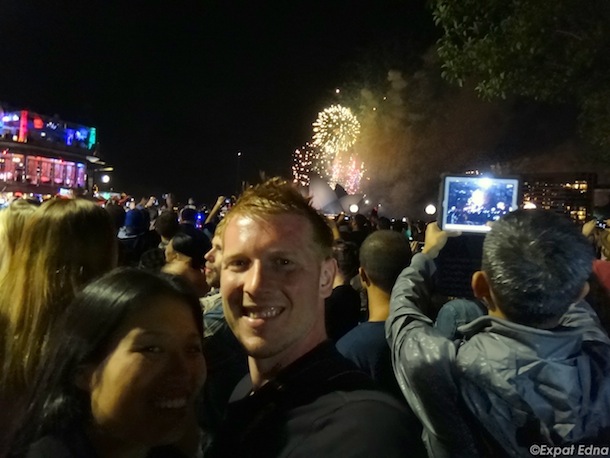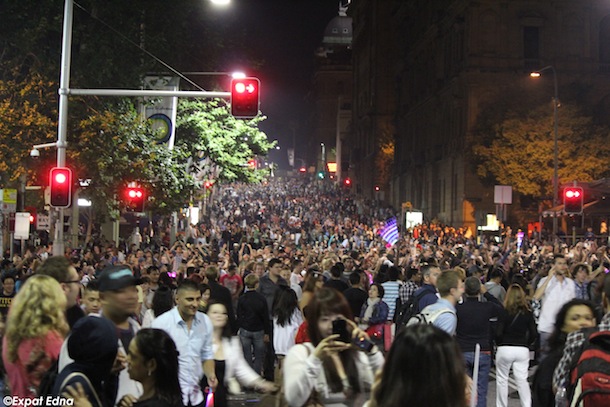 After the fireworks ended, we slowly made our way through the crowds of people, many of whom were dancing and partying in the street. We took our time walking home, soaking up the atmosphere — like them, we didn't want the night to end.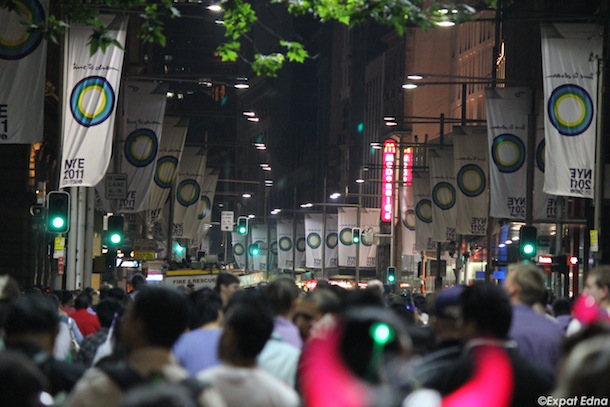 I loved that Sydney's theme this New Year's was "Time to Dream." Even though it involved a lot of luck — the gorgeous day, the picnic spot and sunset, our view of Darling Harbour's fireworks, our spot at The Rocks — the day was perfection and this New Year's was an absolute dream come true. It was the perfect ending to 2011, and the perfect beginning for 2012.